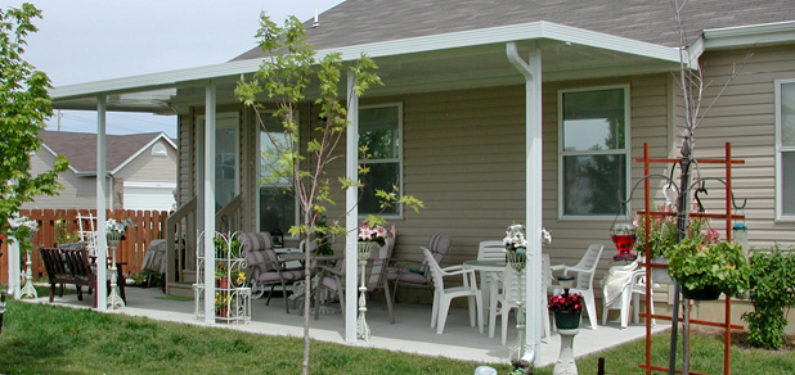 Crest Aluminum Patio Covers
Posted on February 21, 2017
If you and your family find yourselves spending a lot of time sitting out on the patio, you might want to consider getting a patio cover. Zephyr Thomas offers Crest aluminum patio covers, which will last many years and retain their shine. Here's what to know about aluminum patio covers:
Why install a patio cover?
A patio cover will make your patio into a comfortable and beautiful outdoor living space! It will also eliminate the need to keep moving your chair to follow the shade of a sun umbrella. The battle for shade can sometimes seem like a lost cause in the dog days of summer.
But, adding a patio cover can turn your patio into a nice, sheltered spot where you can entertain family and loved ones. If it is raining lightly, a patio cover can be a good way to stay dry while still spending time outside.
Why aluminum patio covers?
The Crest aluminum patio covers are painted with a glossy shine to make an attractive addition to your home. But, there are other benefits to aluminum besides its appearance.
Aluminum is lightweight: it weighs only about a third of what steel weighs. This cuts down on the price, the installment time, and the wear and tear on your home. In addition to being very light, aluminum is also exceptionally strong. It has the highest strength-to-weight ratio of any metal!
It is corrosion-resistant, which means it does not rust as other types of metal will. Aluminum can also be painted. While white is the most popular shade among most customers, you can choose a paint color to match your home. Aluminum is also non-magnetic and it is completely recyclable.
What are some other benefits of an aluminum patio cover?
Aluminum patio covers are simple, structurally, and they will last a long time. Their structural simplicity makes it so that they do not require as much effort to attach them to a house.
Zephyr Thomas's Crest Aluminum Patio Covers are built to stand up against the elements. Aluminum patio covers are also low maintenance. One cleaning a year will suffice to keep your patio cover in tip-top shape.
If you're considering installing a patio cover that will last for years with little maintenance, call Zephyr Thomas Home Improvement to discuss your options. The experts at Zephyr Thomas will assist you in picking out the best patio cover for your home. They will come to your house to discuss your needs, help you pick out a product that is the right fit for your home, and then install it. All you have to do is sit back and enjoy!