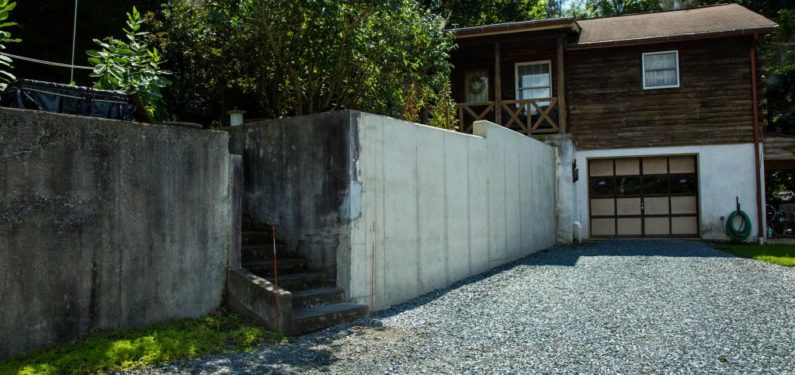 4 Benefits of Installing a Retaining Wall
Posted on April 11, 2017
If any part of your property is sloped, it might be smart to consider building a retaining wall. A properly built retaining wall has many potential benefits and can actually add value and appeal to your property. Here are a few of the many benefits of installing a retaining wall:
1. Adds stability to your property
A retaining wall has the function of keeping soil in place: its purpose is to hold back ground that would erode over time, or move downward. Constructing a retaining wall makes it much easier to landscape your property if there are lots of steep grade changes or even gentle slopes. By making your property more stable, you are also preventing future costs due to property damage. The movement of dirt can damage structures on your property and create more work for you.
2. Prevents sinkholes
A retaining wall will help to prevent sinkholes from forming on your property. Sinkholes can be dangerous and they are difficult to fix once they start to become a problem. By installing a retaining wall, you are protecting your property from being ruined by a sinkhole.
3. Prevents erosion
A retaining wall can make your property more manageable. You won't have to deal with erosion and when it rains, you will be able to worry less about flooding.
4. Good design and value
If you choose to have Zephyr Thomas install a retaining wall on your property, it will add visual interest and be integrated into the overall landscape design. Far from being an eyesore, a retaining wall can be an asset to your property, a unique element that potential buyers will like. It also tells potential buyers that the property has been well cared-for.
A retaining wall can be a kind of accent at the entrance to your property, or a feature of your yard or garden, depending on where it is placed. If you want to add visual interest, you can paint it or install shelving for potted plants or other decorative objects.
If you're thinking of getting a retaining wall installed on your property or improving or replacing one that is already there, check out these before-and-after pictures of the work that Zephyr Thomas has done with retaining walls. Call Zephyr Thomas or stop by our office to learn more about our retaining walls. One of our expert installers will be happy to come to your home to show you your options and help you make the necessary decisions. Learn how a retaining wall could help make your property safer, more aesthetically pleasing, and more valuable today.