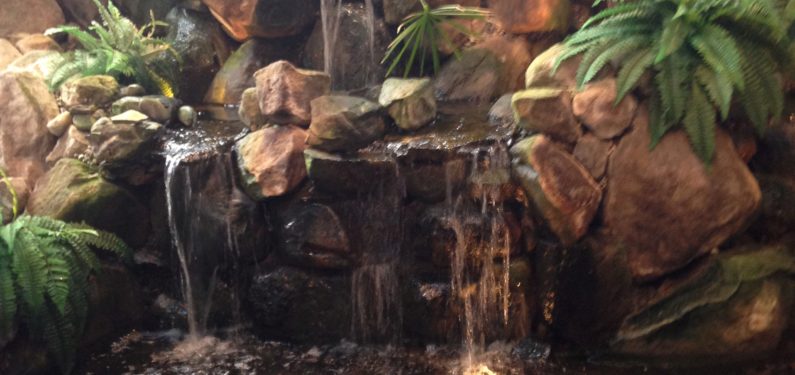 About Our Showroom
Posted on October 18, 2016
Sixteen years ago, Zephyr Thomas's office at 1340 Harrisburg Pike was a run-down chicken distribution center, according to Matt Reeser, a sales consultant who has been with the company for 14 years. All of the walls were corrugated steel. It was something you might call a fixer-upper, not the kind of place a home-improvement company would want to bring their clients to show what they have to offer. But a few years after Zephyr Thomas moved in, Reeser said, the building was transformed. Owner Coy Thomas wanted to create a space in which to show potential customers what they might be getting installed in their homes, which is where the showroom came in.
Potential to Improve
When you walk into the showroom, which is open eight a.m. to five p.m. Monday through Friday and eight a.m. to one p.m. on Saturdays, you'll hear water running. That's the sound of the six-foot-tall waterfall in the corner, which runs into a pond full of fish.
Walk over a footbridge to get to a four-season sunroom complete with comfy furniture and a heating-and-cooling unit fitted into a custom mantle. You can sit on the sunroom's couch and browse through a binder full of before, after, and in-progress photos of many of the company's projects over the years, big and small.
The showroom is a kind of indoor courtyard, complete with greenery and skylights. The door to each office looks like the front door of a house, and the floor of each room in Zephyr's offices is laid with a different design of stained or stamped concrete, so customers can see a variety of stone, wood, and tile designs.
Customers can talk to staff members and pick up brochures about products they are interested in, and they can see and touch different designs of windows, doors, deck materials, and more.
The displays of products Zephyr Thomas uses help customers choose between similar options more easily than by looking through a catalog and can give people a more realistic vision of what their home will look like after the changes are made. Customers can see a model of the LeaFree gutter guard, complete with simulated rainwater running down a segment of a roof; a sun tunnel illuminates the rest of the room.
A Personal Touch
"There's nothing like this on the East coast," Reeser said of the showroom, which demonstrates the fact that Zephyr Thomas has positive relationships with the companies who make the products and materials they use.
The company has been working with these manufacturers for decades, he said.
Thomas hired an artist to paint the walls of the showroom. Sitting politely in the painted grass in one corner is Harley, Thomas' schnauzer – the company mascot, according to Reeser.