How are your gutters doing?  Are leaves keeping your gutters from doing what they're supposed to be doing…routing and draining water?
We want to bring you releaf so you don't feel drained, so Zephyr Thomas offers a variety of custom formed gutter and gutter protection options and colors.
Seamless Gutters:
5″ Seamless K-Gutter (available in a variety of colors
6″ Seamless K-Gutter
Half Round Gutter (available in white and brown only)
---
Leaf Relief Gutter Protection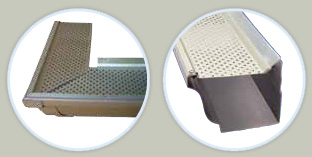 Leaf Relief® by Ply Gem can drain 29.7″ of rainfall an hour—that's more than the highest rainfall ever recorded (Holt, Missouri 1947 at 12″) in one hour. Leaf Relief® is not only the most effective gutter protection system on the market, it is also the most invisible. Leaf Relief® lays flat and fits snugly on top of your gutter.
Solid aluminum construction with proven performance. The Leaf Relief by Ply Gem Gutter Protection System has been manufactured to exacting
standards to ensure a quality product. That's why we back
it with our exclusive 10-Year Limited Warranty

Download the Leaf Relief brochure

Read the Leaf Relief Warranty
---
LeaFree Gutter Protection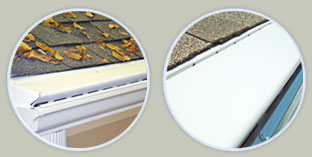 LeaFree™ is a sturdy aluminum gutter cover that is engineered to keep leaves and debris out of your gutter so that it remains clog-free. Find out why these gutter covers are the most reliable and cost effective gutter protection system available!
LeaFree™ works on the scientific principle of water adhesion. The patent pending design allows water to enter the gutter while keeping leaves and debris out. The design allows LeaFree™ to be custom-fit to any
home by adjusting to any roof pitch.

Download the LeaFree brochure