Bathroom Remodeling
Looking to remodel your bathroom?
Or construct a new bathroom in your home?

Zephyr Thomas can either update your existing space or create a new one!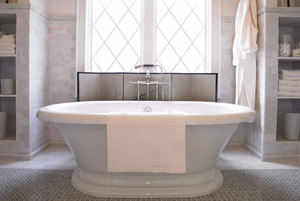 The design ideas for your bathroom are as much about selecting products that provide peace of mind as they are about your preferences in décor. The daily comfort you experience from added convenience is as important as the materials, textures and colors within your environment. Zephyr Thomas can help guide you through the aspects of design, choices in products to use, and the overall feel you are looking to create in your new space. Think of us as your personal expert. We can make your experience in creating your new bathroom an easy and relaxed task. You can trust in our professional team to turn your dream into a reality.
Your bath space is your sanctuary, a calming retreat where you can relax and rejuvenate. An integral part of your overall wellness, it prepares you for-and provides an escape from-your daily routine. Zephyr Thomas has all the tools to create this space. We have an abundance of options to create the space you desire, from a simple bath to a dream spa. You can shape your project around your budget, choosing from standard bath accessories or top notch luxury products. We have the perfect fit for your needs and wants.
Click on the images below to view the full size pictures
Inspiration Gallery
These images articulate the latest trends in bathroom design. Throughout these rooms, you'll see how our products were incorporated to complement each design concept, creating an unforgettable space. Use this photo gallery as a source for brilliant decorating and design ideas in your own bathroom.
WHAT OUR CLIENTS SAY...
"Dear Zephyr Thomas Team, we never cease to be amazed by the marvelous talent of those who work with their hands. Their skill and knowledge of materials are outstanding. The care and pride that our installers exhibited really shows in the finished product. Also, they were very courteous to us as well as one another. It's obvious that they enjoy their work. We were so pleased with their careful work as well as thorough clean up. We knew when we visited your showroom and later met with our salesman that we didn't need to look any farther. We were also impressed with your letters and phone calls. Thank you for making this a positive and pleasant experience, and thanks for the gift card for our referral. What a thoughtful surprise! You have a fantastic team."
- Ted & Carol Nichols
"Our installer is a master mechanic, he did a wonderful job. Please pass on to him that the efforts of his workmanship are much appreciated. Our salesman made me feel that my interests were his main concern. The office staff was very friendly and professional."
- Kent Rebman
"Our salesman was the reason we gave Zephyr Thomas the job, along with the high quality product presented. You have exceeded ALL of our expectations! What a great company, with great people, and a great product!"
- Richard & Angie Lefever
"We have a lot of respect for your company. You have a wonderful work force."
- Richard & Peg Graves